Forum Willy Brandt Berlin
The Forum Willy Brandt Berlin is a place of remembrance for the former Governing Mayor, Federal Chancellor and Nobel Peace Prize winner.
Freedom, peace, democracy and justice – these values and goals have driven Willy Brandt throughout his life. His contribution to reconciliation with Germany's neighbours to the east, his commitment to the unification of Europe, his advocacy of German unity and his commitment to fighting hunger and poverty in the world are milestones in history. Many of the issues he dealt with are still burning issues today.
In the exhibition WILLY BRANDT at the Forum Willy Brandt Berlin you can discover the varied life of the social democrat, who was Nazi opponent, Governing Mayor of Berlin, Federal Chancellor, Nobel Peace Prize Laureate and one of the world's leading politicians.
Exciting exhibits highlight the most important events and stages in the life of Willy Brandt. At the same time, his political activities tell the story of Germany's turbulent history in the 20th century – from the Weimar Republic to German unity. Democracy, Europe and environmental protection are three policy areas Willy Brandt always advocated for. Keynote speeches from his time as chancellor illustrate the undiminished relevance of his thinking.
The educational and event programme covers a broad spectrum from historical topics to current political issues. Guided tours of the exhibition and workshops are aimed at registered individual visitors and groups. The event programme also includes book presentations, panel discussions and academic lectures.
Opening Hours & Admission
daily from 11 am – 5 pm, also on holidays
closed 24.–26.12, 31.12 and 1.1.
Change of opening hours:
Exhibition closed
on 23.11. from 3 pm until 24.11. at 12:30 pm
on 2.12. from 4 pm
free entry
Current state regulations (vaccinated & recovered) apply to the exhibition visit. Detailed information can be found under "hygiene regulations".
We recommend arriving by local public transportation. There are few parking spaces available in the immediate vicinity.
S 1, 2, 25, 26 + U 5: Brandenburger Tor
U5, 6: Unter den Linden
Bus 100, 245, 300: Unter den Linden/Friedrichstraße
The Forum Willy Brandt Berlin is also accessible by ramp and can be easily navigated in a wheelchair. A WC for wheelchair occupants is also accessible. Guide dogs are permitted.
For a responsible coexistence, we ask for consistent compliance with the hygiene measures to contain the COVID-19 pandemic.
* Please refrain from attending an event if you have symptoms of acute respiratory illness.
* Wearing an FFP2 mask is mandatory in the event premises. Once you have taken your seat, you are permitted to remove the mask (the minimum distance of 1.5 metres is maintained by fixed seating).
* Vaccinated & Recovered – Visits to the permanent exhibition and our events are subject to proof of your vaccination or recovery.
Children under the age of seven are exempt from this rule, as are underage students who are regularly tested at school (proof required).
* The collection of contact details for the purpose of tracing infection chains is mandatory. We provide forms for you to fill in by hand on site.
* Please adhere to the applicable distance rules and move prudently in the event premises.
* We recommend that you disinfect your hands before and after your visit. Surfaces and objects in the event rooms are regularly disinfected by our team.
Status: 15.11.2021
Forum Willy Brandt Berlin
The Forum is reopened!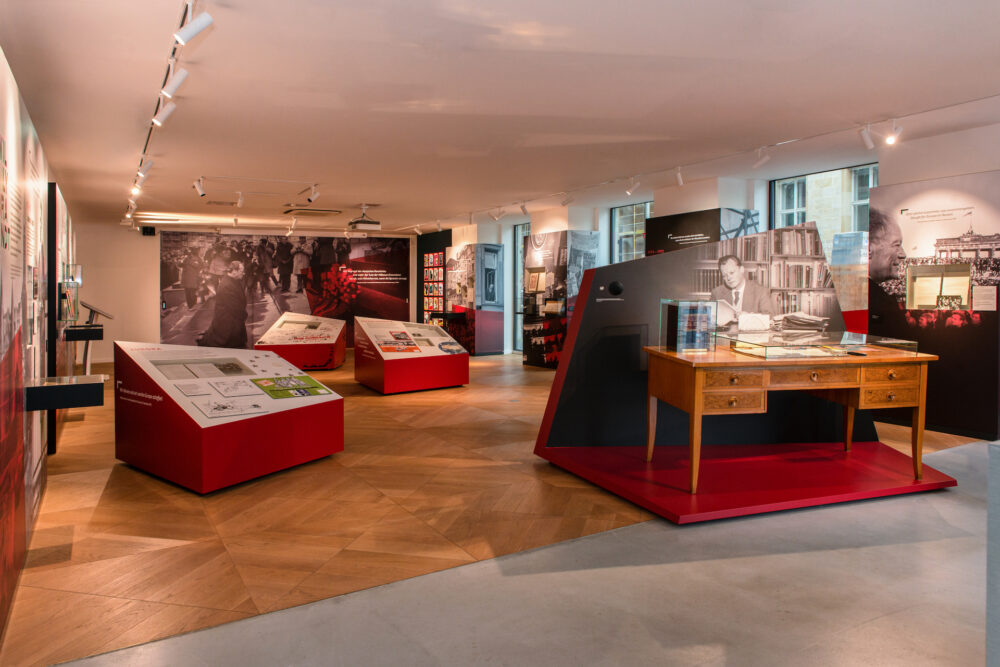 Impressions from the Forum Willy Brandt Berlin