Touring Exhibitions
For the anniversary of his chancellorship, two touring exhibitions offer a new perspective on Willy Brandt's life and political influence.

Working-class youngster in Lübeck, social democrat, opponent of the Nazis, governing mayor of Berlin, foreign minister and federal chancellor, Nobel Peace Prize recipient and international statesman – Willy Brandt's life mirrors, unlike any other, the ever-changing history of Germany and Europe in the previous century. The larger touring exhibit, "Willy Brandt – Freedom Fighter, Chancellor for Peace, Bridge Builder" was opened on 22 October 2019 in the Paul-Löbe-Haus of the German Federal Diet and will tour throughout Germany in upcoming years. Its first stops will be in Cologne, Bonn, Erfurt, Kassel and Heidelberg.
Starting in 2020, an exhibit tailored for showing abroad will travel throughout Europe. In the language of the respective countries, it will provide information about important sojourns and seminal experiences in Brandt's biography.
Throughout his entire life, Willy Brandt devoted himself to the ideals of freedom, peace, democracy, and justice. He contributed measurably to the modernisation of the Federal Republic through reforms in government and society and through a new political style. Brandt opened pathways to our eastern neighbours, and in the long run made the German unification possible, decisively influencing the expansion and strengthening of the European Community. He also set enduring priorities through his advocacy for environmental protection and global solidarity.
With its numerous examples, digital offerings and interactive stations, the larger touring exhibit offers a unique opportunity to rediscover the man, the statesman and the visionary who was Willy Brandt.
Current Location of Exhibition
The next stop from 28 Janary to 11 February for the touring exhibition "Willy Brandt – Freedom Fighter, Chancellor for Peace, Bridge Builder" will be at the
Deutsche Welle (DW)
Kurt-Schumacher-Str. 3
53113 Bonn
Between 28 Janary and 11 February the touring exhibition will be at the Deutsche Welle in Bonn.
There will be four dates for guided tours available:
29 January, 3 p.m. Registration »
3 February, 5 p.m. Registration »
4 February, 1 p.m. Registration »
5 February, 5 p.m. Registration »
The national stops of the touring exhibition:
Berlin 22 October – 8 November 2019: Paul-Löbe-Haus, Deutscher Bundestag
Köln 27 November – 18 December 2019: Willy-Brandt-Gesamtschule Köln
Bonn 28 January – 11 February 2020: Schürmann-Bau, Deutsche Welle
Erfurt 8 March – 13 April 2020: Stadtmuseum "Haus zum Stockfisch"
Kassel 13 May – 19 June 2020: Kasseler Sparkasse
Heidelberg 24 September 2020 – 17 January 2021: Reichspräsident-Friedrich-Ebert-Gedenkstätte
Information for Borrowers & Contact
Our touring exhibition is already booked until the end of 2020. Please contact us if you are interested in borrowing either touring exhibitions from 2021 on.
For requests to borrow the exhibitions and questions concerning the touring management please contact:
Anna Hilz, exhibition and event management
Phone: 030 / 787 707-26
Email:
Die Willy Brandt-Wanderausstellung in Erfurt
8. März bis 13. April 2020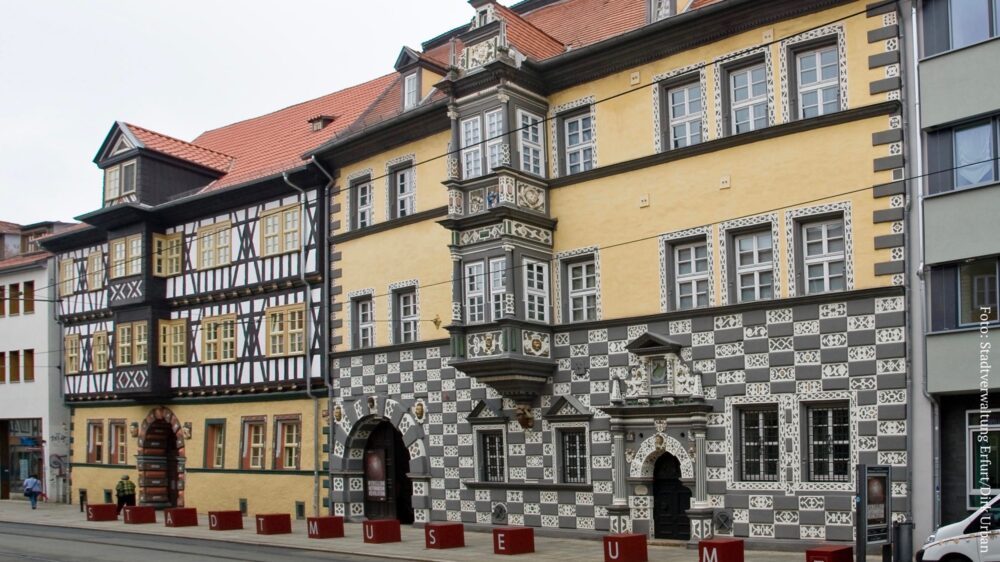 The next stop of the touring exhibition will be at
Deutsche Welle (DW)
Kurt-Schumacher-Str. 3
53113 Bonn
The exhibition can be visited in Bonn
28 January 2020 – 11 February 2020
Opening hours: monday to friday,
10 a.m. to 6 p.m.
If you want to request the touring exhibition, please contact:
Anna Hilz, exhibition and event management
Phone: 030 / 787 707-26
Email: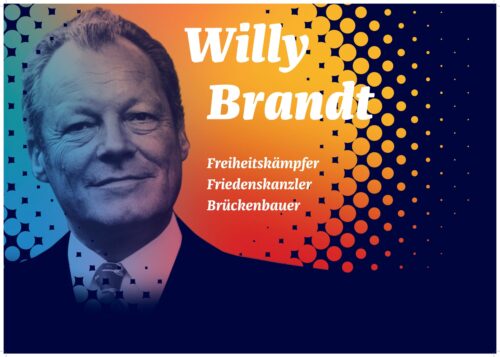 Click here to load map
from Google Maps